Technically, this series is being re-released. The 6 original books were published in the 90's. Seeing as vampires and young adult fiction have substantially grown in popularity since then, these books are being put out once more and with fancy new packaging in what I believe will be a trilogy. It's basically what they did with the The Vampire Diaries as well which were also released in the 90's and then re-released after all the Twilight craziness began to take off.


Personally, I'm a sucker ( no pun intended) for vampire books. Even though they're becoming a little redundant, I just can't help myself from being intrigued. Plus I like this whole idea of being the last vampire alive on the planet. That's something I haven't come across yet. So although these are technically already on the market, I'm going to wait for the re-release. I like the idea of them packaging more then one of the original stories together to form one larger book and if you must know, I'm cover vain and I think these are prettier. D:




Alisa has spent the past five thousand years as a vampire, living alone and fighting for survival. In her loneliness, Alisa cannot resist bringing Teri—a descendant of her human family—into her life. But Alisa is surrounded by death and destruction, and just by knowing Alisa, Teri's life is at risk.
Alisa's guilt grows when she becomes involved in a dangerous conspiracy. A top-secret group knows Alisa's secret and will stop at nothing to use her powers for their cause. As Alisa desperately tries to protect herself and Teri from the unknown enemy, she discovers a force more powerful and more lethal than anything she has ever seen.
Alisa doesn't know who to trust, who to challenge, or who she will become….

-"Thirst No. 3 – The Eternal Dawn"



source
"Thirst" has now spent 21 weeks on The New York Times Bestsellers List and is currently sitting at #2. Will there ever be any new The Last Vampire/Thirst stories? Will we ever see Sita again?
I am writing new ones. There is a huge demand for them with the success of "Thirst" on the New York Times Bestsellers list. The new ones are better than the first six.

What does Christopher Pike do for fun? What are your hobbies?
Meditating, walking, hiking. I like movies. The last film I saw was Brothers. I like reading books. I can read for weeks on end. I like Flash Forward, Dexter, True Blood. I love the old Angel series.
Source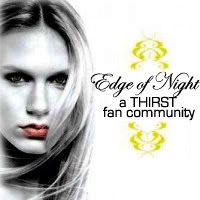 Feel free to use the above graphic if you want.
(
Read more...
Collapse
)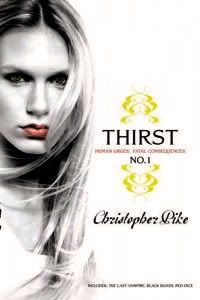 Whether most of today's teens have ever heard of Christopher Pike is definitely up for debate; and no, he isn't the old captain from Star Trek; his real name is actually Kevin McFadden.
(
Read more...
Collapse
)
Source
According to the
Christopher Pike fan Club
:
Rumors are brewing about Thirst No 3 being released this October and a listing on Pike's publisher website all but confirms that Sita will be returning in a new book as of October 5th 2010.

This new story is entitled Thirst No 3: The Eternal Dawn

At 496 pages this brand new story will be the longest single volume in The Last Vampire series and be the first new Sita story since 1996 (The Last Vampire: Creatures Of Forever was released on October 1st, 1996) making it a lucky 13 years between stories.

Also worth noting: Thirst No 1 and No 2 continue to feature on the New York Times Bestsellers list where No 1 has been for 28 weeks (currently sitting at no#5) and No 2 has been for 6 weeks (currently no#4).
Preorder at Amazon
Rules
Respect the author, actors, characters, and fellow community members. Debate and discussion are allowed,but all flame wars should be taken elsewhere.




Christopher Pike is a very private person so no speculation on his life, no trying to contact him, or send him your fanfiction or anything like that please.





Long entries should be put under a cut.




Only posts relating to Thirst, Christopher Pike, and the characters in the Last Vampire verse are allowed.




Spellcheck is your friend.




All kinds of fanarts are allowed from icons to fanfic, but they must have headers and short teasers before the lj cut. Nothing gross or illegal and any warnings or spoilers should be noted in header.